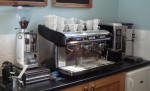 We provide a wide range of hot and cold drinks together with delicious home made cakes and biscuits. Our barista style coffee is freshly made using fairtrade supplies.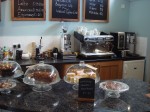 You can also buy instant coffee, tea and various infusions. Milk shakes and a range of soft drinks are available.
Our simple lunchtime menu includes soup and a range of sandwiches.
Americano 

£1.90/£2.20

Flat White (reg)

£2.30

Cappuccino 

£2.10/£2.40

Latte

£2.10/£2.40

Espresso

£1.50

Macchiato

£1.70

Extra shot/Syrup

40p

Hot Chocolate 

£2.10

Hot Chocolate & more+

£2.40

Tea 

£1.40

Specialty Teas 

£1.70

Shmoo/Shmoo+

£1.50/£1.90

Milk (glass)

80p

Milk Shake (carton)

70p

Ribena (carton)

90p

Fruit Juice/Fizzy drinks

£1.40

Cakes and Cookies 

60p to £2.00

Toasted Teacake

£1.60

Soup with bread 

£2.60

 Sandwiches 

£4.00 – £4.50

Toast

£1.00

Toast/Beans on toast

£2.00
---
Return to: Home